https://www.instagram.com/evalouisebuus/
Selected solo exhibitions
2006, Opposites, Private Bag Gallery, Lusaka, Zambia
2006, Summer, Østfynsk Kunstforening, Nyborg, Denmark
2008, Hvide Dimensioner (White Dimensions), Q, Copenhagen
2009, Expanding Nature, Pomeranian State Museum, Greifswald, Germany
2009, Currents in Time, with Anna Örtemo, Æglageret, Holbæk
2011, Colour me Blind, Galleri Christina Wilson, Copenhagen
2011, Nattebilleder (Night Paintings), Projekt:Rum, Copenhagen
2012, Hvide Nætter (White Nights), Maniitsoq Museum, Greenland
2013, Heavy><light, traneudstillingen,="" copenhagen<="" p=""> </light,>
2013, Expanding Color, Caspar-David-Friedrich-Galerie, Greifswald
2015, Slægtskab (Kinship): Eva Louise Buus interprets Forsberg's work, Fanø Kunstmuseum
2016, Forestillinger om Skønhed (Notions of Beauty): Carl Johan Forsberg & Eva Louise Buus, Rønnebæksholm
2019, Entré (Entrance), with Astrid Marie Christiansen & Krista Rosenkilde, Kunsthal Nord, Aalborg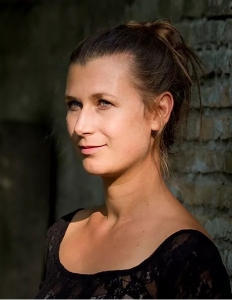 Educated form the Royal Danish Academy, School of Fine Art in 2009 with both a BA and a MFA in painting.
She also holds a BA in Architecture from The Royal Danish Academy, School of Architecture.
Eva Louise Buus' paintings have over the last years been made without paint. Instead she uses acids to make different kinds of oxidations on several kinds of metals.
Buus has after an collaboration with the well renown porcelain brand Royal Copenhagen expanded here field and are now working with ceramics as well as paintings. ​
Her themes are nature, water, beauty and transformation.